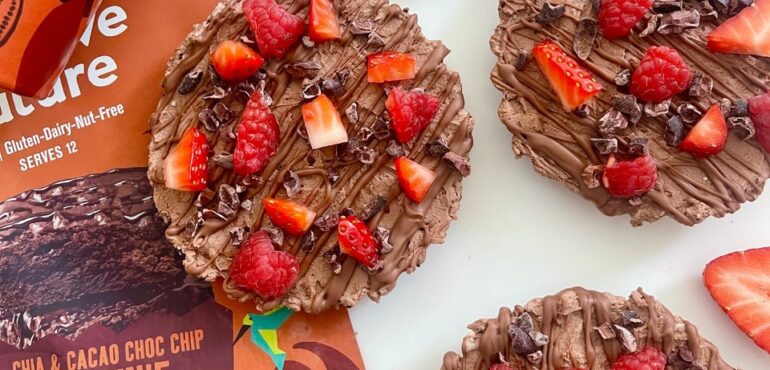 As we are approaching World Allergy Awareness week, we wanted to give you some of our baking tips for free from cakes that taste delicious.
World Allergy Awareness Week this year runs between June 13 to June 19 and is an annual event to raise the awareness of allergic diseases and other related medical conditions.
The theme for this year's event is anaphylaxis, which as regular readers to our blog will know, is very close to our hearts, as our CEO Julianne suffers from anaphylaxis to multiple foods. Indeed she often shares stories around this on her own website.
Anaphylaxis is an extreme reaction to venom, insect bites, food or medication and it sometimes leads to a persons airways swelling dramatically, causing some sufferers to stop breathing if treatment is not immediate or very, very quick.
The majority of anaphylaxis cases are caused food such as nuts. If you search online you will see, sadly, many stories of fatalities, either because a person does not know they have anaphylaxis, others around them did not know or did know what to do, or appropriate and urgent treatment was not available.
Team Allergy Challenge:
As a team, Julianne challenged us all to not eat foods containing a certain allergen for 24/48 hours. She wanted the team to understand what her daily life is like, even though she is triggered by multiple allergies such as sesame seeds, peanuts, all nuts, as well as some that are outside the Top 14 like chickpeas and lentils.
Each team member was given different allergens, from the list below, to avoid and here are their reactions to that experience.
Trudi: Allergies – Peanuts and Mustard
The most challenging part was finding something to eat that I like! I always questioned; how do I know if they are made in a factory that handles nuts? I found a well-known chocolate brand and know they sell a product with peanut butter, however this one didn't state that it was made in an environment that handles nuts, so I had to research it.
Dale: Allergies – Dairy and Fish
There were actually loads of options to cater for people living with my allergens (crustaceans and dairy), however, I found locating the 'may contain' statements on pack very time consuming.
Phoebe: Allergies – Dairy and Sesame
I found that a lot of baguettes and sushi had sesame so I couldn't choose them. I normally like buying a coffee from the supermarkets however, there weren't many dairy free options. Also, a lot of sandwiches contained dairy or had 'may contain' stickers, which lessened my choice. This did make me think much harder about my food choices.
Ellen: Allergies – Crustaceans, Gluten and Tree Nuts
When shopping with my allergies, a lot of the bread had gluten and 'may contain nuts' stickers, and there weren't as many gluten free options. I also found it hard to find snacks that were gluten free.
Josh: Allergies – Milk and Eggs
The shop I visited didn't have any options in the meal deals that didn't contain milk or eggs so that is where I struggled the most.
Allergy Challenge Conclusion
This simple exercise (which Julianne challenges us to do from time to time) made us all realise how hard it is to live with allergies day to day.
Food choices can be very limited, and if you don't read the ingredients list, you are putting yourself in danger.
It also informs our understanding of why Julianne started Creative Nature, because it is very hard to find snacks that are gluten free, and often nut free too! It motivates us to keep on doing what we are doing to help people like Julianne.
Why don't you try it with your family or friends? Challenge them to only shop foods that are completely Free From 1 or more of the Top 14 Allergens. Let us know how you all get on and if anyone really struggled like we did!
During World Allergy Week, we also wanted to share three, free-from and nut free cake recipes using Creative Nature Baking Mixes.
All of our dairy free baking mixes are also free from all of the Top 14 Allergens and you can create delicious egg free cake and super quick desserts.
Top 3 Free From Cakes
Apple Crumble Muffins
Our gluten free Apple Crumble Muffins can be great nut free snacks for school. Our dairy free baking mixes are so easy to bake and taste so yummy.
Serves 6: Prep 5 mins: Cook 20 – 25 mins.
Ingredients:
1 Creative Nature Chocolate Chip Muffin Mix
100g dairy free spread
2 large bananas (or 3 flax eggs)
300g vegan vanilla buttercream
6tbsp crumble (made from your favourite free-from biscuits)
6 apple slices
Method:
1. Preheat the oven to 180°c.
2. In a mixing bowl, add in the chocolate chip muffin mix, mashed bananas and dairy free spread and mix together.
3. Spoon the mixture into six muffin cases and bake for about 25 mins, until lovely and brown on top.
4. Once they cool, pipe the vegan buttercream on top and place a slice of apple on each muffin and sprinkle over the crumble.
Raspberry filled Chocolate Muffins
If you want easy desserts for a crowd then these raspberry filled nut free chocolate muffins will be right up your street. If you know anyone with a food allergy then these muffins will be the perfect treat for them.
Serves 6: Prep 5 mins: Cook 20 mins
Ingredients:
1 Creative Nature Chocolate Cake Mix
110ml vegetable oil
200ml your favourite plant-based milk
300g vegan buttercream
3 drops of red food colouring
6tbsp raspberry jam
6 raspberries
Method:
1. Preheat the oven to 180°C/400°/Gas Mark 4
2. In a mixing bowl, mix together the chocolate cake mix, milk and vegetable oil until combined.
3. Evenly spoon the batter into six muffin cases and pop in the oven for about 25 mins, then remove and allow to cool before icing.
4. In a bowl, mix the buttercream and red food colouring to make a pink colour.
5. When the muffins are cool, cut a hole in the centre of the muffin, (retaining the cut-out cake), from top to near the bottom. Then spoon in the raspberry jam, and replace the cut-out cake back on top.
6. Pipe the buttercream on top and place a raspberry on each muffin.
Spiced Carrot Cake
There is nothing better than a slice of spiced carrot cake. Not only is this simple baking recipe a vegan nut free cake, but it's also delicious and full of flavour.
Serves 9: Prep 5 mins: Cook 20 – 25 mins
Ingredients:
1 Creative Nature Carrot Cake Mix
165g grated carrot
70ml vegetable oil
65ml cold water
1 tbsp apple cider vinegar
Method:
1. Preheat the oven to 180°C (fan)
2. In a large mixing bowl, add the baking mix, grated carrot, (remember to keep some grated carrot for decoration at the end) vegetable oil, cold water and apple cider vinegar.
3. Evenly distribute the mixture between two 20cm cake tins and place in the oven for 20 to 25 mins.
4. Allow to cool for a further 15 mins.
5. Add your icing of choice and sprinkle some of the leftover grated carrot on top.