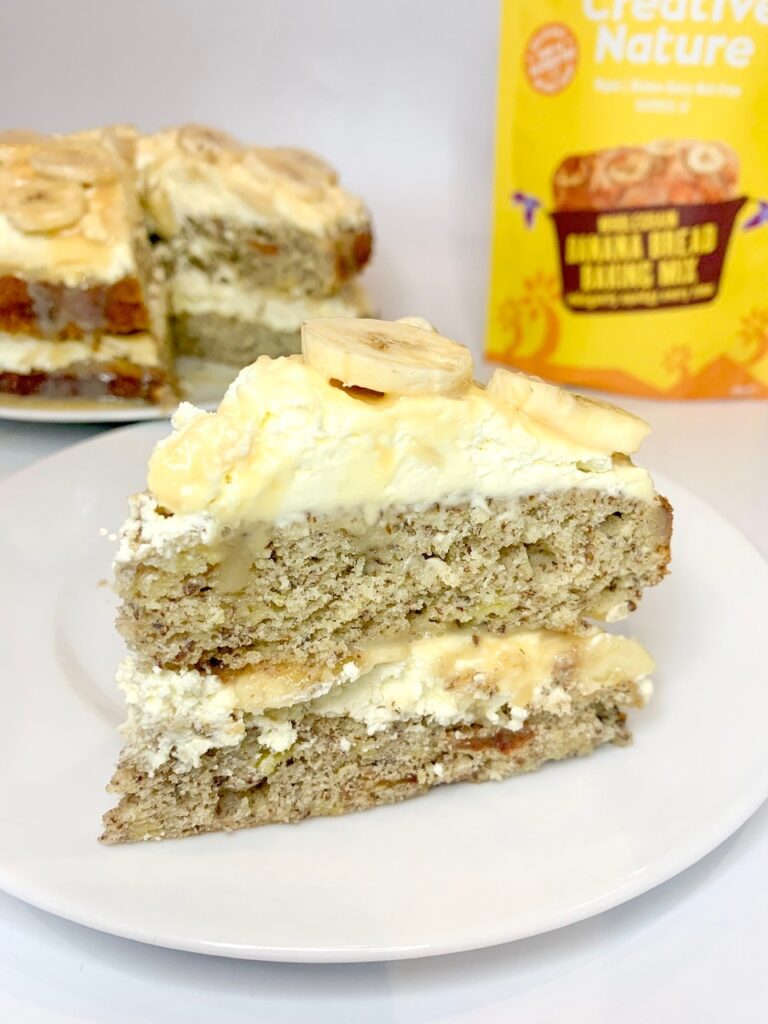 Banoffee Banana bread
If banana is your favourite flavour then this Banoffee Banana Bread is definitely going to be right up your street.⁠
⁠
We wanted to make our gluten free banana bread a little bit different, so we did a twist with a classic banoffee pie. Add some vegan whipped cream, bananas and toffee sauce and you've got a banana banoffee cake.
⁠
This is the perfect definition of tea and a slice of cake in the afternoon that we know you will enjoy because it is delicious.⁠ Our Banana Bread is the ultimate allergy friendly baking mix for an afternoon tea treat.⁠
⁠
If you'd like to recreate this yummy banoffee banana cake, you can buy our Banana Bread baking mix in Tesco's, ASDA and on our website.
Ingredients
2x Creative Nature Banana Bread Mix
9x Large bananas 
80g Dairy free spread
600ml dairy free double cream
200ml Toffee sauce
Method
Preheat the oven to 180°C/400°F/Gas Mark 4.

Mash up six bananas in a mixing bowl with a fork, then pop the banana bread mix dairy free and in and give a good stir.

Spoon the yummy mixture into two greaseproof cake tins and place in the oven for 25 minutes.

Whilst the cakes are baking, use a hand whisk to whip up the double cream until it thickens. Also slice up the last three bananas.

Once the cakes have cooled, spread over a thick layer of the cream, add half of the sliced bananas all over and pour over the toffee sauce. Then place the next cake on top.

Repeat with the cream, bananas and sauce and ENJOY!