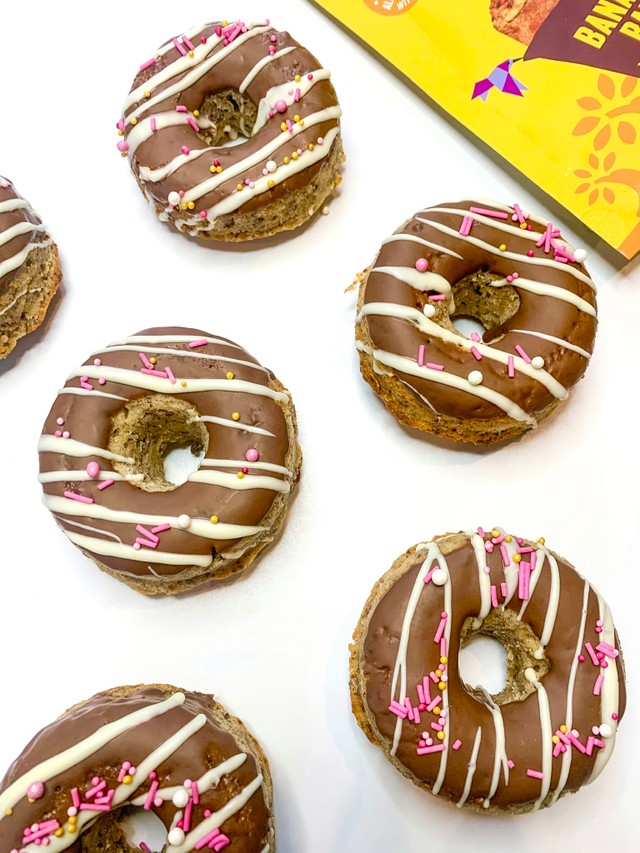 Banana Bread Doughnuts
It is doughnut week so of course we had to create some homemade banana bread doughnuts suitable for anyone with the 14 food allergies. We used our free from banana bread mix, which is available in Tesco's, to make our own Top 14 allergen free version.⁠
⁠
We took some inspiration from the doughnut emoji by adding dairy free  chocolate on top and pink sprinkles. The best thing about these is your can put your own twist on the decoration.
Banana Bread doughnuts are so fun to make and super easy to bake which is an absolute bonus.
This is such an easy recipe for beginners too, all you need is our gluten and dairy free baking mix and you have yourself yummy doughnuts.
The best thing about these is that they are suitable for anyone with the Top 14 Allergens.
Ingredients
1x Creative Nature Banana Bread Mix
40g Dairy free spread (softened)
3x large bananas
100g Vegan milk chocolate
50g vegan white chocolate 
1tbsp Sprinkles of your choice
Method
Start by preheating the oven to 180 degrees.

In a mixing bowl mash up the bananas and add in your softened dairy free mix and mix together.

Once combined, add in the banana bread mix and combine using a wooden spoon.

Evenly distribute these into your silicone doughnut moulds.

Place these in the oven for 20 minutes and check after to make sure they are cooked through.

Start melting the vegan milk chocolate in a glass bowl over boiling water in a saucepan. 

Once the doughnuts are cool, dip the top into vegan milk chocolate.

Place these in the fridge for around 5 minutes to cool. Whilst you are waiting melt the white chocolate as you did for the milk.

Using a teaspoon, gently make zig zags across the doughnuts with the vegan white chocolate then add your sprinkles.

Place these in the fridge for a further 5 minutes to cool and enjoy!