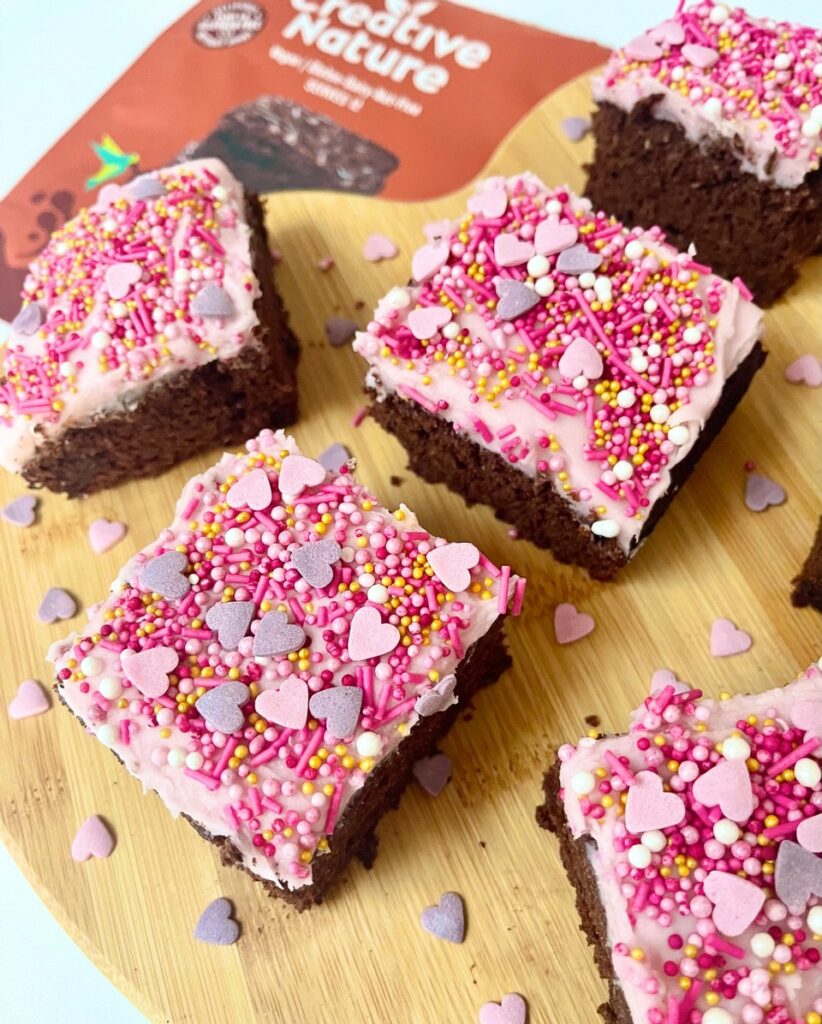 Valentines Day Brownies
Presents are overrated for Valentines day, why not bake your valentine these yummy Valentines Day Brownies topped with pink icing and sprinkles! They won't be able to resist.
We can promise you that they will absolutely love this and it's super quick to bake as well. It is always the thought that counts anyways, right?
You can't beat a slice of brownie and a romantic film on Valentines Day.
These Valentines Day Brownies are dairy free too and suitable for vegans which is great.
Who doesn't love a brownie? These are the best way to a persons heart.
Ingredients
1x Creative Nature Brownie Mix
3 tbsp Milled Flaxseed
9 tbsp Water
125g Dairy Free Spread
Pink icing of your choice
Lots of pink sprinkles!
Method
Preheat the oven to 180 degrees

Place 2 tbsp of Milled Flaxseed into a small mixing bowl and add water, leave for about 10 minutes until it becomes gloopy. 

Place the contents of the baking mix into a large mixing bowl followed by the dairy free spread, water and milled flaxseed. Mix well until all is combined. 

In a greaseproof tin, pour the mixture inside and place in the oven for 15-20 minutes. 

Once cooked, allow to cool for 10-15 minutes before decorating with your icing and sprinkles! 

All that's left to do after the decorating is to ENJOY!