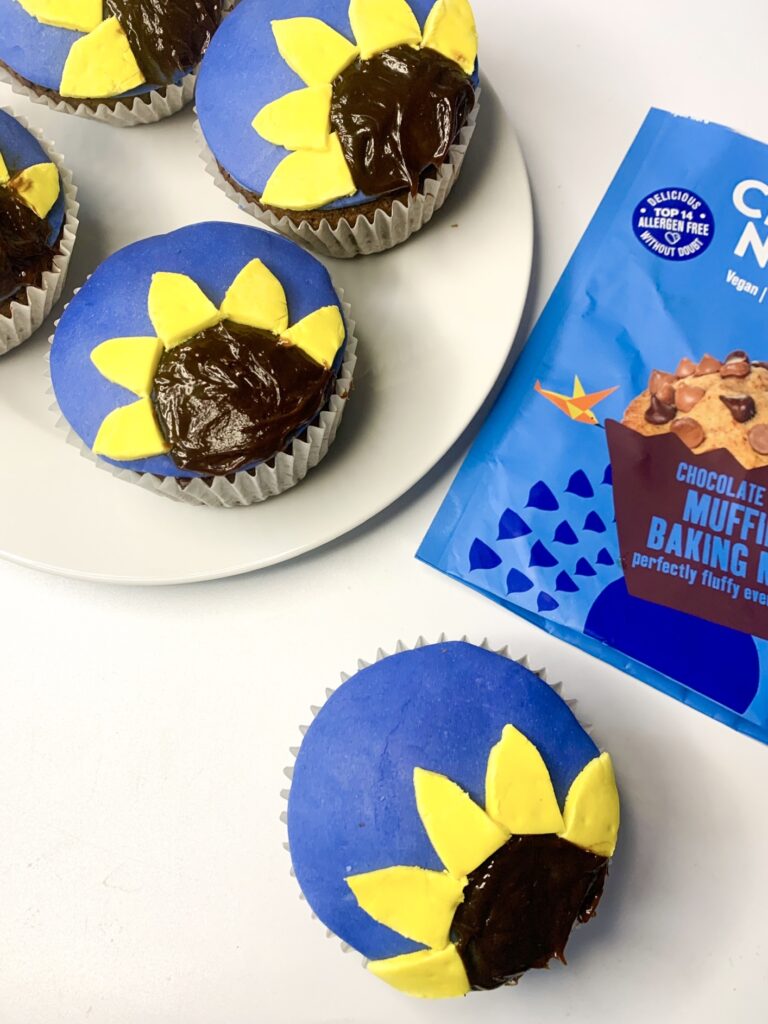 Sunflower Cupcakes
One of our favourite things about summer is all of the beautiful flowers which gave us baking inspiration for these gluten free sunflower cupcakes!
Our sunflower cupcakes are so easy to bake using our dairy free baking mix. If you are looking for nut free snacks for school then these cupcakes are perfect for just that.
These are also perfect for vegan kids party foods as they look so fun and pretty. Also, this recipe is ideal for baking with kids as they are so easy and enjoyable to create.
Our nut free chocolate chip muffin mix are free from all of the top 14 allergens and has a recipe that is suitable for vegans.
Ingredients
Creative Nature Chocolate Chip Muffin Mix
100g Dairy Free Spread
2 Large Bananas
100g blue fondant icing
100g yellow fondant icing
10tbsp of dairy free chocolate spread
Method
Preheat oven to 180°C/400°F/Gas Mark 4.
Mix together the baking mix, mashed bananas and dairy free spread into a bowl.
Spoon the yummy mixture into silicone muffin cases, whilst humming your favourite tune.
Bake for about 25 mins, until lovely and brown on top.
Whilst they are baking, roll out your blue fondant and using a cookie cutter to create circles.
Then roll out the yellow fondant and cut out petal shapes.
Once the muffins are cool, place on the circular blue fondant on top and spread over the chocolate spread to create a semi circle. Then add the yellow petals around the spread.
Enjoy!!