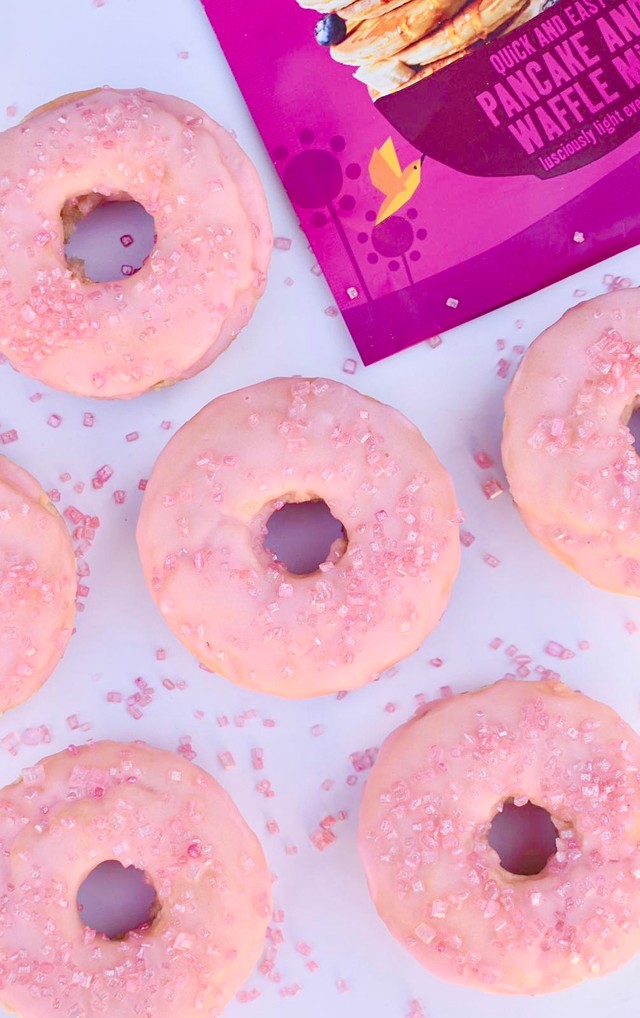 Pink Doughnuts
If, like us, you are a fan of a doughnut, then these pink doughnuts will not disappoint!
Made using our pancake and waffle mix which is free from the top 14 allergens and completely vegan, these pretty little puddings will be a hit all round.
Icing them with pretty pink icing and sparkles too, just makes them scream Valentines Day! Who wouldn't love to be surprised with a platter of these delicious doughnuts?!
Show your loved ones how much you care by making these for them. Don't delay – pick up a packet of our Creative Nature pancake and waffle mix today!
We would love to see what wonderful creations you guys have made for your loved ones for Valentines Day – tag us on Instagram @Creativenature
Ingredients
1 x Creative Pancake & Waffle Mix
250ml of your favourite plant based milk
1 tbsp Apple Cider Vinegar
50g icing sugar
10ml water
Pink food colouring
Pink sprinkles
Method
Preheat the oven to 180 degrees 

In a large mixing bowl pour the contents of the baking mix in and add the milk, apple cider vinegar and mix until fully combined. 

Evenly distribute the mixture in the doughnut holds and place in the oven for around 10 minutes. Keep an eye on them; they can turn golden brown very quickly. 

Allow to cool for 10 minutes and take them out of the doughnut moulds.

Leave to cool for 10 minutes.

Meanwhile mix the icing sugar with the water and a couple of drops of the food colouring.

Dip one side of the donut into the icing and then leave place on a plate to set. 

Repeat this if you want the icing to be thicker.

Add sprinkles as you see fit.

ENJOY!