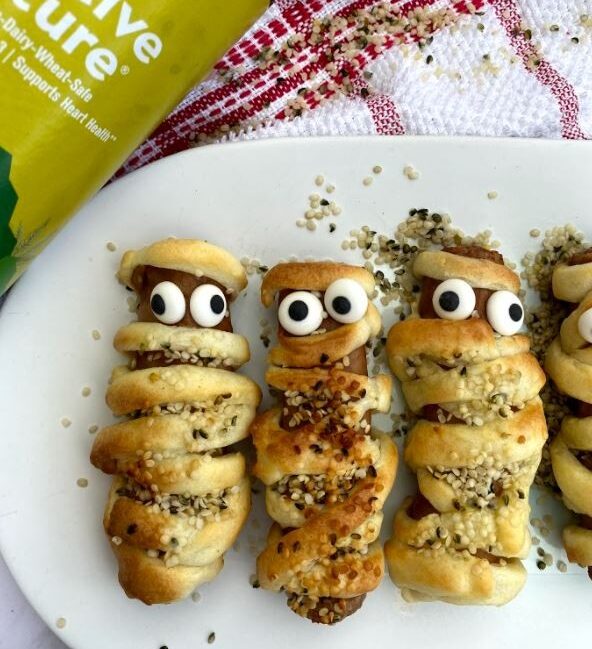 Mummy Hot Dogs
It's a fun Halloween spin on the classic pigs in a blanket turning regular vegan hot dogs into mummy hot dogs by wrapping them in pastry.
This is one of those super easy, kid-friendly recipes that is guaranteed to bring a smile to everyone's faces whether you serve them as a cute but creepy appetizer at this year's Halloween party, or you bake them as a special Halloween dinner before everyone heads out trick-or-treating.
These vegan Mummy Hot Dogs are a cute halloween options that everyone will enjoy and they are so fun to make.
Ingredients
⁠1x Tube of puff pastry⁠
8x Veggie dogs⁠
2 Tbsp Creative Nature Shelled Hemp Seeds⁠
1x Packet Edible eyes⁠
Method
⁠1. Preheat the oven to 190°C, fan 170°C, gas 5.⁠
2. Unroll the pastry and cut it into 8 strips, about 1cm wide. Roll out the strips to make them a bit longer.⁠
⁠3. Wrap a pastry strip around each sausage, starting at one end to look like a 'mummy'. ⁠
⁠4. Bake for 25-30 minutes, until the pastry is golden and sausages are cooked through.⁠