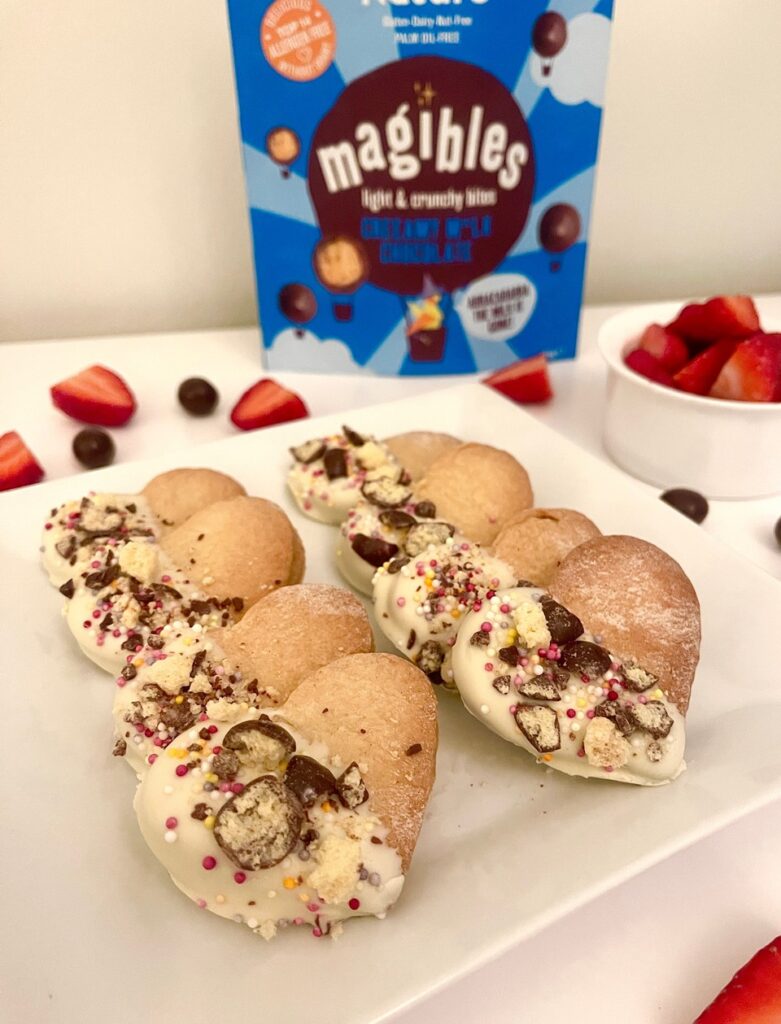 Magibles Cookies
These might be the cutest cookies we have ever made! ⁠
⁠
How adorable are these heart shaped cookies topped with vegan white chocolate and Magibles?! They are the perfect treat to make your mum for Mother's Day. ⁠
⁠
They are so easy to make and will be ready in just over an hour, what's not to love about that?! They are also free from the top 14 allergens so everyone can dig in! ⁠
Who will you be making these for this Mothering Sunday?
Ingredients
300g Gluten Free Flour
100g Caster Sugar
40g Dairy Free Spread (chilled)
200g Vegan White Chocolate (melted)
75g Magibles (flavour of your choice)
Method
In a large mixing bowl add the flour, sugar and dairy free spread and combine using your hands until it creates a dough like texture.

Once combined place in the fridge for around 25 minutes.

On a lightly dusted surface roll out your pastry to around a 2cm thickness 

Use your heart shaped cookie cutter and place this on the pastry to create your heart shaped cookies. 

Place these on a baking tray which has been lined with baking paper 

Place in the oven for around 15-20 minutes. They should become golden brown. 

Allow your cookies to cool once they are out the oven.

Melt your white chocolate and once the cookies are cool dip half of the cookie into the chocolate 

Place this again on a baking tray with baking paper and add some sprinkles and your crushed up Magibles on top and repeat for the rest of the cookies. 

Place in the fridge for 20 mins to allow the chocolate to cool

ENJOY!