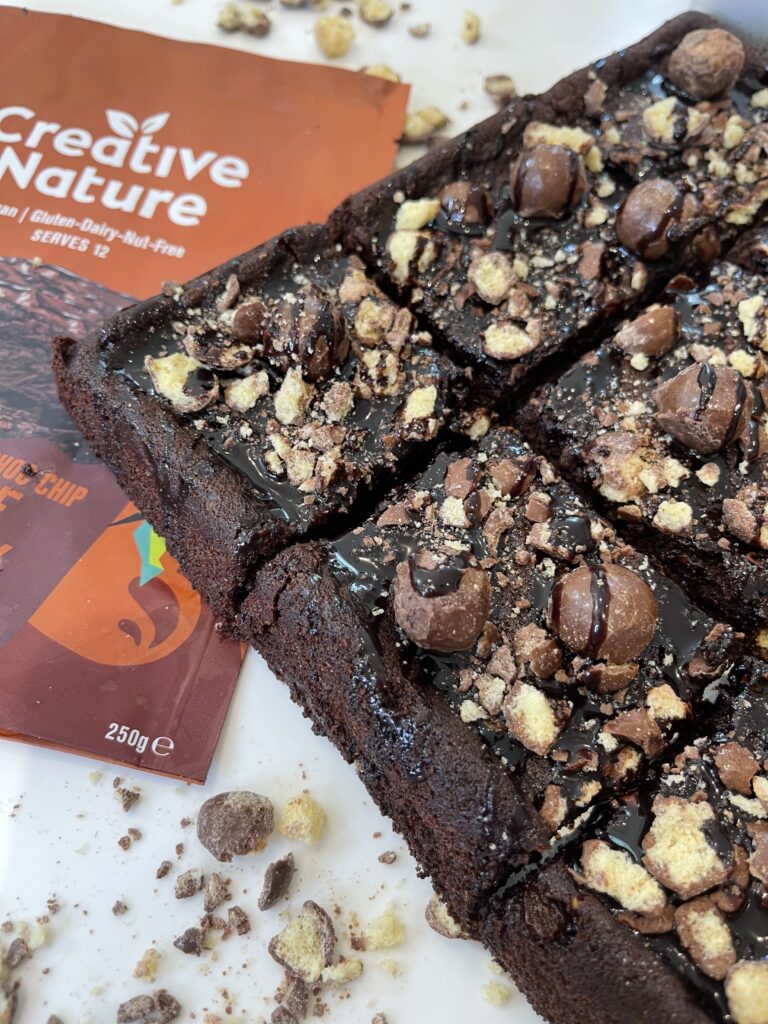 Magibles Brownies
These delicious, decadent and downright delightful Magible Brownies will be a hit in any household!
Our rich chocolatey brownie mix with cacao choc chips throughout, is gorgeously gooey and really does make the easiest and yummiest dessert. To take it to the next level why not top with some Magibles (flavour of your choice), and a drizzle of vegan chocolate sauce.
This delicious dessert is top 14 allergen free and vegan friendly.
Perfect for enjoying whilst snuggled up on the sofa watching your favourite film!
Don't delay – tag us in your recreations @Creativenature on Instagram!
Ingredients
1x Creative Nature Brownie Mix
9 tbsp cold water
3 tbsp Flaxseed
75g Magibles
Vegan chocolate sauce
Method
Preheat the oven to 180 degrees.

Combine the flaxseed and water and allow to set until it turns gloopy 

Pour the contents of the baking mix into a large mixing bowl and add in all the wet ingredients 

In a greaseproof tin, place the brownie mixture in and place in the oven for around 20-25 minutes! 

Let the brownies cool and then sprinkle a mix of crushed and un-crushed Magibles over the top of the brownies and drizzle your vegan chocolate sauce to taste.

Cut the brownies up into x6 rectangles 

ENJOY!