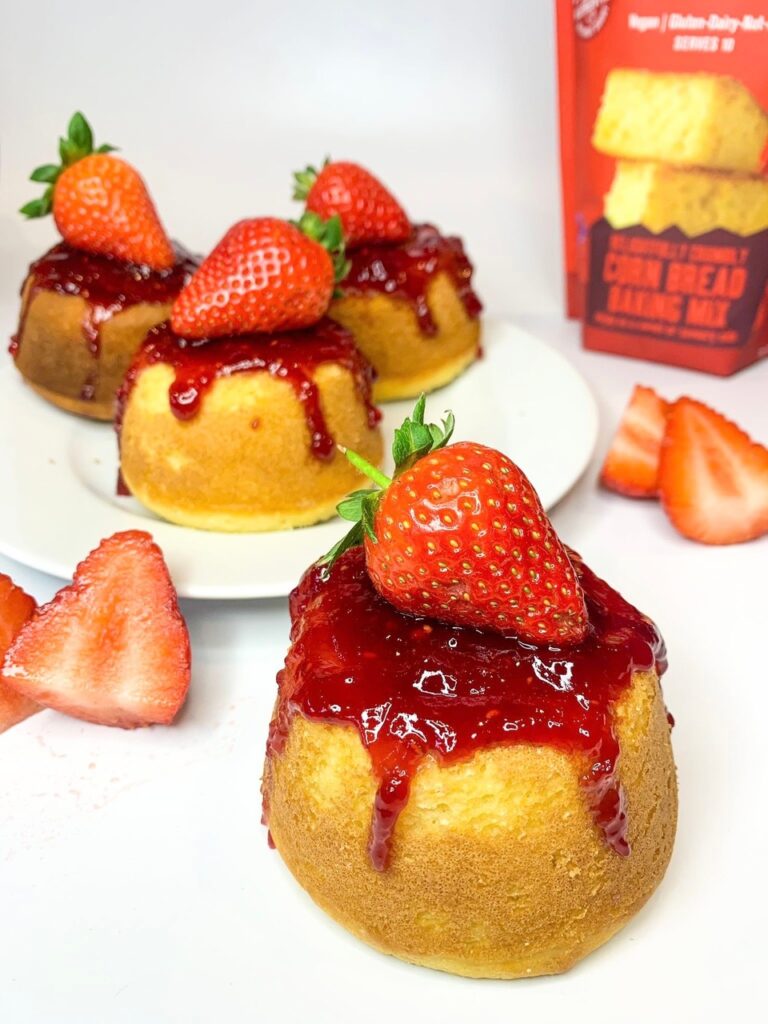 Jam Roly Poly
Can you really beat a warm sponge filled with jam? We couldn't think of anything better than this. We put a Creative Nature twist on a jam roly poly, by using our gluten free corn bread to create the sponge and filling it and topping it with jam which was an unbelievable combination. ⁠
⁠
You can pair this with some dairy free ice cream to have the contrast of hot and cold which is absolutely AMAZING. These were so fun to make and you can choose whichever flavour jam you like.
Our Jam Roly Poly is so easy to bake and you can pair it with some dairy free ice cream for some extra goodness.
The gluten free corn bread creates such a yummy sponge and paired with the strawberry jam, it creates the perfect combination too.⁠
⁠
Ingredients
1x Creative Nature Corn Bread Mix
80g apple Sauce
200ml plant-based milk
50ml vegetable oil
8tbsp strawberry jam
4x strawberries
Method
1. First, preheat the oven at 200 degrees and grease the tin with oil or butter and place in the oven.
2. Pour our corn bread mix into a mixing bowl and make a well in the middle.
3. Add the apple sauce, plant-based milk and vegetable oil into the well.
4. Mix all the ingredients together but not for too long.
5. Spoon the mixture into a greased muffin tin, this should make 4.
6. Place in the oven and bake for 25 minutes.
7. Once baked and cooled, cut a hole at the top and spoon out some sponge.
8. Place in 1tbsp of jam into each Corn Bread cup and then place the cut up corn bread on top again like a lid.
9. Heat up the rest of the jam. and pour over each roly poly.
10. Place one strawberries on each roly poly and ENJOY!