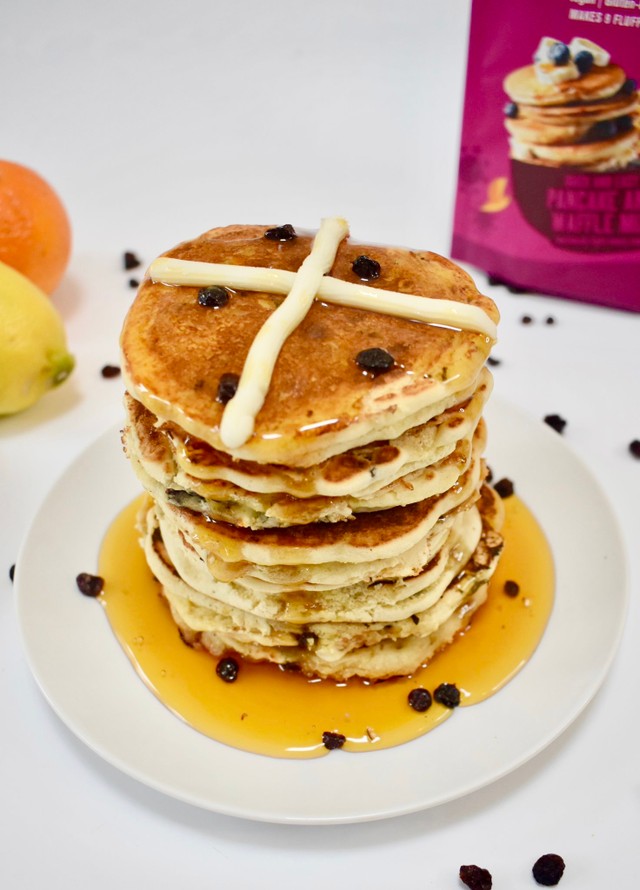 Hot Cross Bun Pancakes
One of best parts of Easter time is the endless amount of hot cross buns that we consume throughout the month. ⁠
⁠
We wanted to try something a little bit different and turn our favourite Easter treat into pancakes and oh boy were they delicious!
They were super quick and easy to make and the flavours were really vibrant!
Our pancake mix is top 14 allergen free and vegan friendly. You only need 2 ingredients to add to this baking mix. It really is baking made so easy. All you have to add is Plant Based Milk and Apple Cider Vinegar!
If you love our Pancake & Waffle Mix make sure to check out all our other baking mixes that everyone can enjoy.
What else is there to think about? Grab yourself a bag today!
Ingredients
1 x Creative Nature Pancake Mix
1 x Orange
1 x Lemon
150g Currants
200ml Plant milk
2 tbsp Apple Cider Vinegar
50g Vanilla Frosting
Method
Grate the zest of  the lemon and the orange and put in a side bowl.

Add the plant milk and apple cider vinegar to a mixing bowl

Add the pancake mix to the wet ingredients and whisk together.

Then add the currants and the lemon and orange zest to the bowl and mix together.

Fry the pancakes for 60 seconds on each side over a medium heat.

Stack the pancakes on your plate and pipe some vanilla frosting in a cross on the top. 

Drizzle golden syrup as much as you like.

Sprinkle a few more currants on top.

ENJOY!!