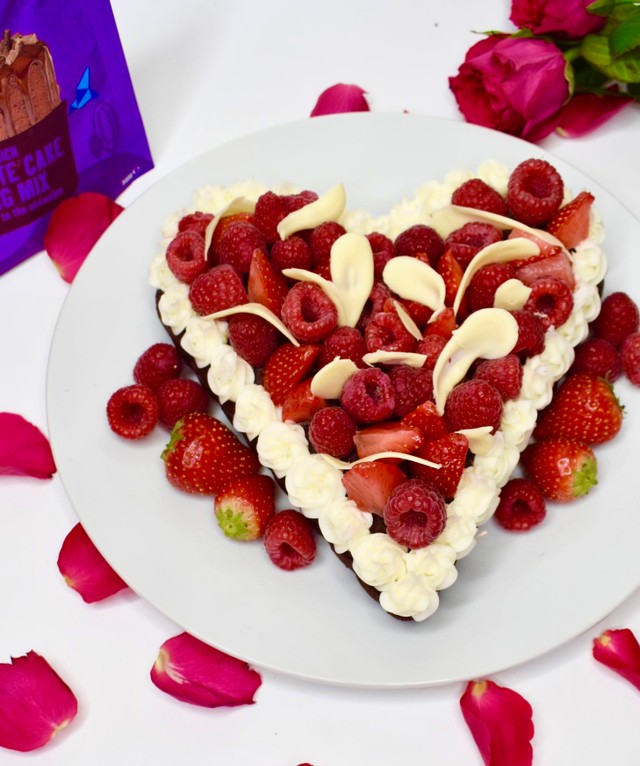 Heart Shaped Chocolate Cake
There's literally nothing that says "I love you" like a heart shaped chocolate cake!
We used our Chocolate Cake Mix to make this delicious top 14 allergen free cake. Topped with delicious strawberries raspberries and white chocolate – what could be better?!
Share this with your loved ones over a cup of tea. Or maybe just eat it all yourself – no judgement here!
Tag us in your own creations we would LOVE to see them.
Ingredients
1 x Creative Nature Chocolate cake mix
250ml of your favourite milk
110ml Vegetable Oil
50g Vegan White Choc
100g White Frosting
150g Strawberries
150g Raspberries
Method
Preheat oven to

Gracefully pour all the ingredients into a mixing bowl give it a good stir. Feel free to dance, sing and make merriment during this all-important stage, just try to keep the mess to a minimum!

Pour into a 20cm  Heart shaped cake tin 

Pop into the oven for 25 mins, then remove and allow to cool before icing. 

Pipe the frosting in little rose shapes around the border of the cake.

Top the centre of the cake with strawberries and raspberries and white chocolate shavings.

ENJOY!!