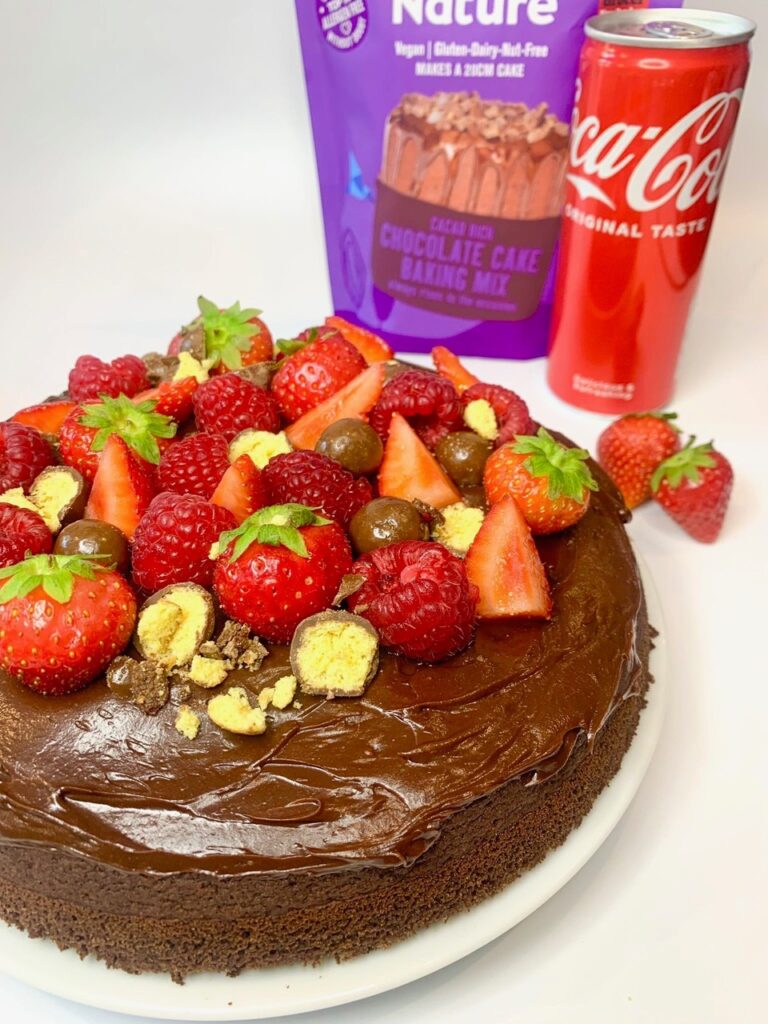 Coca-Cola Chocolate Cake
This Coca-Cola Chocolate Cake is such an easy recipe to bake, and you only need two main ingredients which is an absolute bonus.
One of the things we love about our Chocolate Cake Baking Mix is that you can get very creative even on a budget. We used Coca Cola to make this chocolate cake and it worked just as well as any other ingredients originally needed to make this. ⁠
Our dairy free baking mix creates the perfect light sponge and paired with some nut free chocolate spread it tastes delicious.
If you are looking for easy baking recipes for beginners, then this Coca-Cola Chocolate Cake will be perfect for you.
This has to be one of our favourite vegan desserts and it was so fun to experiment with another ingredient to create our amazing gluten free chocolate cake.
Ingredients
x1 Creative Nature Chocolate Cake Baking Mix ⁠
330ml Coca-Cola
200g dairy free chocolate spread⁠
1x Creative Nature HazelNOT Gnawbles 30g⁠
1/2 cup of strawberries⁠
1/2 cup of raspberries⁠
Method
Preheat the oven to 180°C/400°F/Gas Mark 4.

In a mixing bowl, mix together the chocolate cake mix and coca-cola until combined.

Spoon in the batter to a circular baking dish and pop in the oven for about 25 mins, then remove and allow to cool before decorating.

Decorate by spreading over some dairy free chocolate spread and adding your fruit and Gnawbles.
Enjoy!!