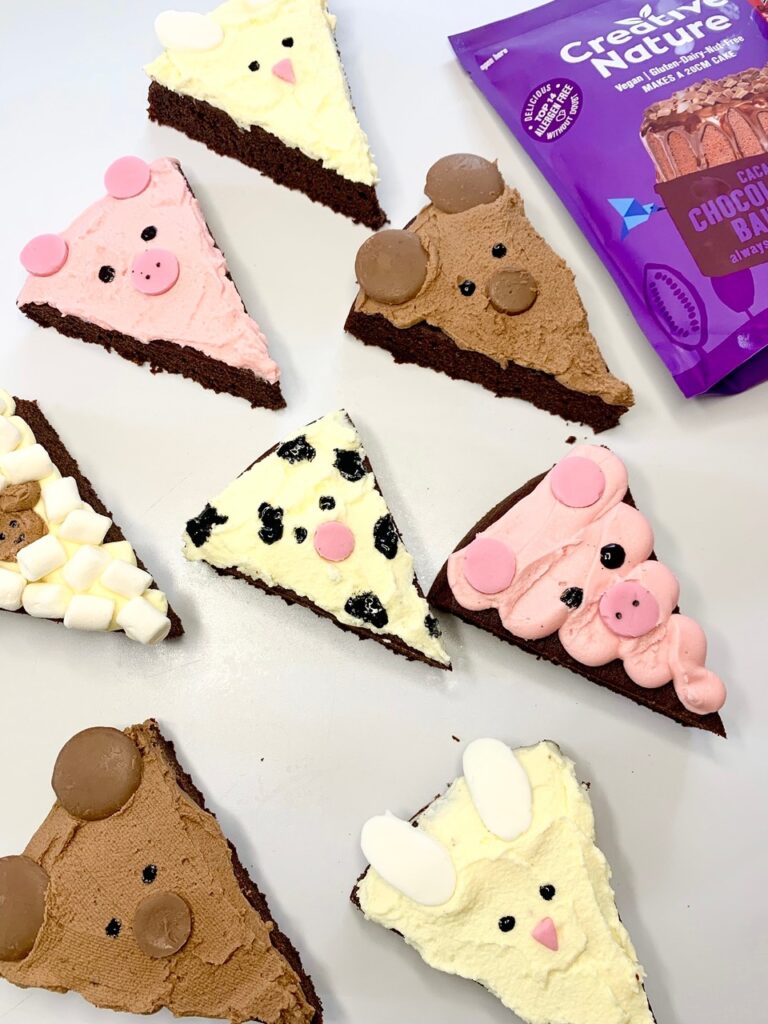 Chocolate Cake Animals
How cute are these Chocolate Cake Animals? They are so easy to bake and you can create as many different animals as you like.
These dairy free chocolate cakes would be great for a bake sale, children's parties etc. The best thing about our nut free chocolate cake is that it is completely gluten free and of course free from all of the Top 14 Allergens. If you make them, we'd love to see your creations.⁠
One of the best things about our Chocolate Cake Animals is that the whole recipe only comes to 81p per serving, you can't get much better than that!
Are you looking for easy baking recipes for beginners? Well look no further as these are perfect for exactly that.
A perfect snack for kids that anyone can enjoy with a lovely cup of tea.
Ingredients
1x Creative Nature Chocolate Cake Mix
250ml Plant based milk
110ml Vegetable oil
200g dairy free buttercream
1tbsp vegan marshmallows
1tbsp pink food colouring
1tbsp Creative Nature Cacao Powder
Method
Preheat the oven to 180°C/400°F/Gas Mark 4.

In a mixing bowl, mix together the chocolate cake mix, milk and vegetable oil until combined.

Spoon in the batter to a circular baking dish and pop in the oven for about 25 mins, then remove and allow to cool before cutting.

Cut the cake vertically, horizontally and diagonally.
Mix together 50g of the vegan buttercream with the cacao powder. Repeat the same with the pink food colouring instead of the cacao powder.
Pipe the 100g of plain vegan buttercream onto 4 slices of cake.
Pipe the pink buttercream onto two of the cakes and cacao buttercream onto the other two.
Decorate the faces with any chocolates you have to create the ears and noses (we used chocolate buttons and icing pens).