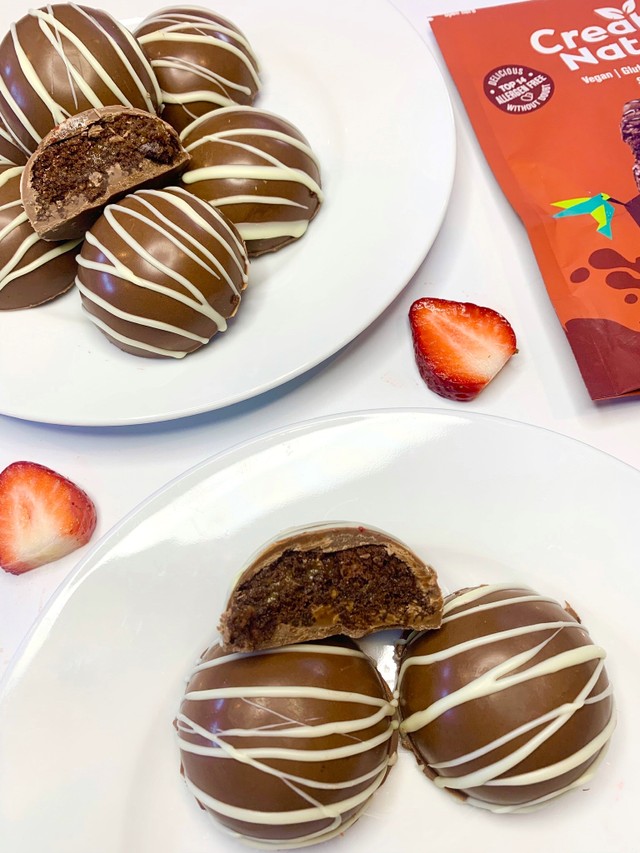 Caramel Brownie Cups
If you are looking for a yummy and dairy free on the go sweet treat then we have got you covered. These Caramel Brownie Cups are a nut free chocolate dream which are completely gluten free!⁠
⁠
The combination of the smooth chocolate outing, sticky caramel and gooey gluten free brownie is like nothing else and so delicious.⁠
⁠
These are great to offer any guests with a drink and a chit chat whilst enjoying this nut free chocolate brownie.⁠
Our caramel brownie cups are the go to sweet treat to have in the day as an after school snack or a yummy dessert.
If you love chocolate as much as we do, then we know you will LOVE these allergy friendly brownie cups.
Ingredients
1x Creative Nature brownie mix⁠
3 tbsp Milled Flaxseed⁠
9 tbsp Water⁠
125g Dairy Free Spread⁠
200g vegan milk chocolate ⁠
50g vegan white chocolate ⁠
8tsp Caramel⁠
Method
1. Preheat the oven to 180 degrees.
2. Combine the flaxseed and water and allow to set until it turns gloopy
3. Pour the contents of the baking mix into a large mixing bowl and add in all the wet ingredients
4. In a greaseproof tin, place the brownie mixture in and place in the oven for around 20-25 minutes!
5. Whilst the brownies are baking, melt the milk chocolate in a glass bowl over a saucepan of boiling water.
6. Spread the melted vegan chocolates in some circular moulds and place in the fridge until the chocolate sets.
7. Once the chocolate is set and the brownies are cool, crumble the brownie and add a teaspoon into the chocolate moulds then the caramel and more brownie.
8. Pour over the chocolate on top so it forms a closed cup and place in the fridge for an hour.
9. Whilst you are waiting, melt the vegan white chocolate like you did with the milk chocolate.
10. Once the cups are set, drizzle the white chocolate on top creating some lines and ENJOY!
⁠