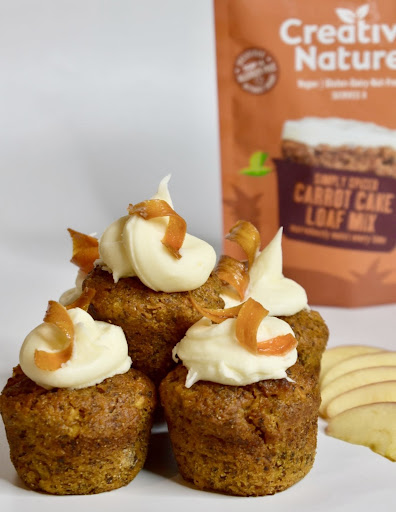 Apple and carrot muffins
We've taken our classic, Simply Spiced Carrot Cake Mix and put a spin on it by adding some apple to the mix!
Not only is this flavour pairing a match made in cake heaven, but it also helps you get more of your 5-a-day! What could be better than that?!
These muffins are the perfect treat for an afternoon snack with a nice hot cuppa to tide you over until dinner time! You can eat them with frosting if you fancy a little something extra. But even without frosting these muffins are absolutely delicious without doubt!
Top 14 allergen free and vegan friendly, these little mouthfuls of heaven are also completely school safe! So pop one in your little ones lunch box to give them a nice surprise at school!
Ingredients
1 x Creative Nature Carrot Cake mix
165g Grated Carrot
1 x Apple diced
70ml Vegetable Oil
65ml Cold Water
Method
Preheat oven to 180c/350f/gas mark 4

Pour contents of the carrot mix packet into a mixing bowl

Add the water and oil and blend together

Gently fold in the grated carrot and let it rest for 2 mins.

Scoop the mixture into 6 muffin cases and pop into the oven for 20 minutes.

Take the muffins out of the oven and leave to cool for 30 minutes. 

Add frosting if you wish, or eat them as they are.

ENJOY!!