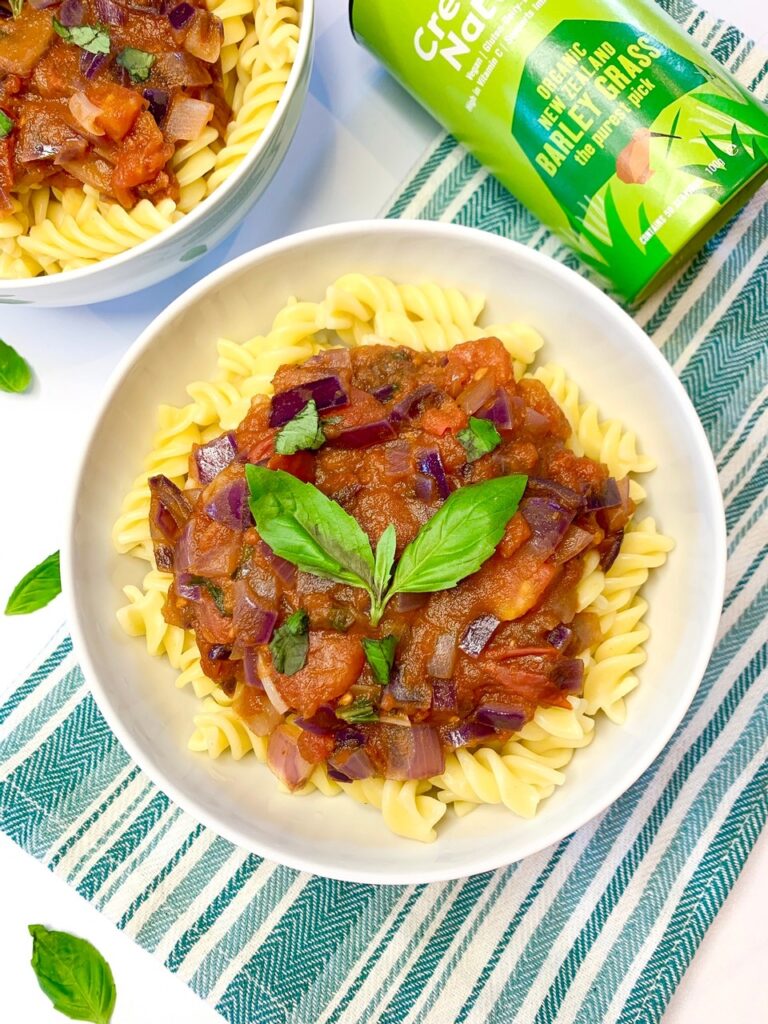 15 Minute Tomato Pasta
If you need a quick and easy dinner after a long day that tastes delicious then this free from recipe is for you. We added our barley grass into the sauce for some extra nutrition and health benefits. ⁠ ⁠
We all know that after a long day the last thing you want to do is cook for a long amount of time. We have got you covered because this dinner is only 15 minutes from start to finish. ⁠
You really can't beat a nice bowl of gluten free pasta and when it's as quick and easy as this it tastes EVEN better!
You can even make big batches of this pasta and use it for meal preps so you even have a few lunches ready, what more could you want?
There is nothing better than 15 minute meal and you only need minimum equipment which is a bonus.
Ingredients
1x tin of chopped tomatoes 
1tbsp Creative Nature Barley Grass
2x  garlic cloves
1x Red onion
1tbsp Oil
300g Fusilli pasta (gluten free)
1tsp oregano 
1tsp basil 
½ tsp Thyme 
Salt and pepper to taste
Method
In a saucepan boil water and add the pasta.

Dice the onion and garlic into small pieces.

In a saucepan, heat up the oil and add the onion until golden brown and softened. 

Then add the chopped tomatoes and continue to stir so it's mixed together, then add the garlic.

Once that is combined add the basil, oregano and thyme. 

Drain the pasta and serve in three bowls and spoon the sauce on top and enjoy!